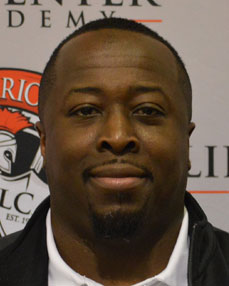 Head Coach: Hilton Clarke
Coach Hilton Clarke joined the Life Center Academy coaching staff as Head Coach of the boys middle school basketball team during the 2005-2006 school year. Coach Clarke stayed with the team until the 2014-2015 season when he took over as Head Varsity Girls Coach.
Coach Clarke is determined to expose his up and coming star athletes to an athletic life beyond middle and high school sports. He considers it an honor to connect student-athletes to the higher educational experience through sports. This begins in the pre-season when he invites coaches from NCAA Division I, II, and III campuses to open practices where they are able to see the many talents and skills these young ladies possess. After numerous meetings with his coaching staff about enhancing the profile of the team and each of its Lady Warriors, the Life Center Academy "Lady Warrior Winter Classic" was born. The showcase competition hosted teams from the US and Canada at LCA's athletic facility, and was attended by the surrounding community as well as college & university coaches. The turnout and feedback during the inaugural 2017 year ensured that Coach Clarke and his staff would continue to organize this showcase annually.
Asked why he does it, Coach Clarke says, "Being a Coach is not only challenging but a very rewarding position. Seeing our student athletes mature on and off the court as well as preparing them for their future endeavors keeps me motivated. When the college coaches see the talent that I see daily, it is also very rewarding. That is why I continue to recruit potential players that can benefit from Life Center Academy and this athletic program."

Assistant Coach: Dwayne M. King
Coach Dwayne M. King is in his third season as an Assistant Girls Basketball Coach at Life Center Academy.
King has an extensive coaching career. He has coached high school and middle school girls' basketball for over 10 years. King has also coached on several highly successful travel basketball teams, including Books and Basketball Academy for whom he remains an assistant coach with the 17u Elite team and head coach of the 16u Elite team. Prior to joining Life Center Academy, King was the head coach of the Trenton Catholic Academy Girls Varsity Basketball Team. He served in that capacity for most of the 2014 -2015 season after taking over for the departed head coach. With King's guidance the Lady Mikes won the Mercer County Tournament Championship and Burlington County Scholastic League Championship. As a result of the team's success, King was voted as Times of Trenton Area Girls Basketball Coach of the Year for 2014 - 2015.
King served as an assistant coach at Trenton Catholic Academy for three years prior to being appointed head coach. During that time, the team enjoyed unprecedented success while winning county and state championships. He also coached the Trenton Catholic Academy middle school girls' varsity team for three years and won multiple CYO championships.
King continues to do God's work by sharing his knowledge of basketball to student-athletes who are passionate about the game and are desirous of using their athletic acumen to garner a college scholarship.

Assistant Coach: Norman Davis
Coach Norman Davis joined the Life Center Academy coaching staff as an Assistant for the girls' varsity basketball team during the 2012-2013 season. Coach Davis is a graduate of Life Center Academy and former basketball, baseball and soccer athlete competing during his four years at the varsity level. Coach Davis went on to compete for the University of Valley Forge, where he was a 4-year starter on the soccer team and 2 year all-conference player for the Patriots. Coach Davis also competed 1 year on the baseball team. Upon return to Life Center Academy along with duties as an Assistant for the varsity team, Coach Davis assisted with the JV girls' basketball team during the 2012-2013 season. Coach Davis has been an integral part in recruiting of athletes into the program, also assisting to the day to day operations of the basketball program.
Asked why he does it, Coach Davis says, "Being able to give back to my alma mater is very rewarding and it is great to see our kids working hard to reach their goals in the gym every day. My goal is always to see each kid in our program be able to play basketball at the next level. Finally seeing our kids develop on and off the court is the most important. I want them to be able to walk out of this program better than when they first started and be prepared for life after basketball."