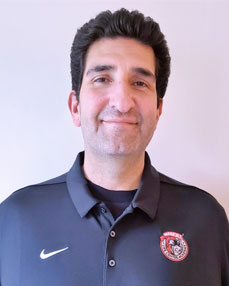 Head Coach: Joe Vianna
Coach Joe Vianna brings over 15 years of high level, international coaching experience, including several years in Brazil, where he played soccer. Nominated a United Soccer Coaches, Coach of Significance in 2020, and a finalist in the Dick's Sporting Goods Hero of the Year Award in 2019, he also doubles as Head Coach for the Liverpool FC Academy in Moorestown, New Jersey. The Liverpool FC Academy is the only academy that offers a direct path to the number one soccer club in the world today. Liverpool FC is the current Premier League, UEFA and FIFA World Club champions. Liverpool FC Academy coaches must pass the same rigorous curriculum taught at the academy in England to reach full LFC Academy Certification. Coach Joe is Liverpool FC Academy Certified, USSF D licensed, and holds several diplomas from United Soccer Coaches Association (formerly NSCAA).

The team unity at Life Center Academy is undeniable as players are taught to share the love of Christ with one another through the sharing of personal life experiences. Coach Joe's mission is to personally mentor each player so they are inspired to become the best version of themselves as soccer players and Christ-followers. Coach Joe places great emphasis on developing the character of each student-athlete and preparing them to succeed on the soccer field and more importantly, in life. Winning has become a collateral effect of this coaching philosophy as Life Center Academy players are inspired to play for something greater than themselves.
Assistant Coach: Hugo Alvarez
Coach Hugo Alvarez has been playing soccer since he walked his first steps in Cali, Colombia. After moving to the United States at the age of 8, Coach Hugo went on to play high school soccer at Rancocas Valley High School in South Jersey. After graduating from RVHS Coach Hugo played collegiate soccer at Rowan College. He is grateful for the opportunity to join Life Center Academy on its mission to help transform the student-athletes on the boys soccer team into men who will make a difference in the world. He also loves the opportunity to jump in on a scrimmage with the boys from time to time.