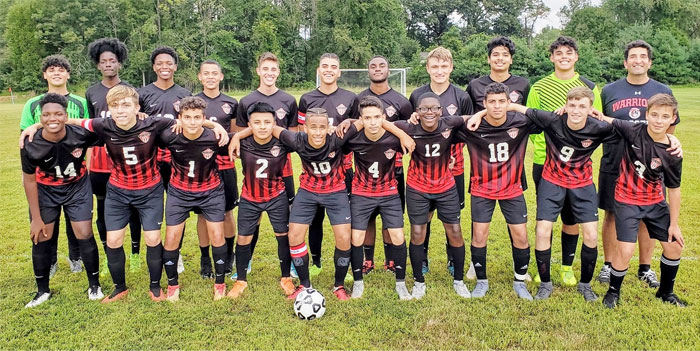 Life Center Varsity Boys Soccer is rich in history and tradition. Each season, our aim is to assimilate new faces with established players to form a committed and cohesive unit, both on and off the field. God, discipline, and sacrifice guide our program, and it is the responsibility of each individual on the team to apply these principles for the team's benefit. Fielding a rigorous schedule of 18-20 games each season, Warrior Soccer requires intense physical and mental toughness and preparation. Our boys play hard, they play fair and they leave their mark against every opponent they face. At Life Center Academy Varsity Boys Soccer it's "Our game, God's glory"!
After participating in the Penn Jersey Athletic Association for many years and winning the PJAA championships in 1994, 2000, 2001, 2002, 2004, 2005, 2007, 2012, 2013, 2014, 2015, 2016, and 2017, the team now plays an independent schedule. The regular season schedule includes games against some of the top Public and Preparatory Schools in New Jersey and Pennsylvania such as Seneca High School, New Egypt High School and Audubon High School. Life Center Academy Boys Soccer also competes in the NCSAA National Championships in Ohio, where they face the best Christian Prep Schools from all over the United States. In 2019, after an undefeated PJAA campaign, the team travelled to Xenia, Ohio, where they advanced to the Division I final and came up short, losing the championship game by a score of 1-1 (4-5), on penalty kicks, against Calvary Christian Academy (MD).
Life Center's Varsity Boys Soccer Team has a roster of 22 players who begin the season with a rigorous training camp which runs from 7:00am-10:00am Monday through Friday until school begins. Pre-season begins in August and during the school year the team trains on week days (except Wednesdays) from 3:00pm-5:00pm. Varsity Soccer players are all expected to be fully committed to the team's activities during the season. Off-season workouts, which include Winter League play in our state of the art, indoor, turf facility, are optional. All players are also required to have a current athletic physical on file with the school nurse.